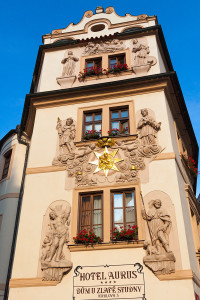 Because Prague is so small, it's better to base yourself close to its' centre, near the major restaurants, shops and sights. Many hotels are located around Wenceslas Square. There you're in the middle of everything, and most (but not all) hotels price themselves to reflect this. An alternative area that's well-liked is the close by Náměstí Republiky, but the premier part is around Old Town's Square, 3 minutes walk from the Charles Bridge. The hotels there include big, global franchises, traditional Czech dwellings, and a few smaller, very exclusive inns. Southwards, within New Town, there are some less expensive hotels, just a small number of metro stops away from Old Town's Square. However, this area isn't as beautiful, and a few streets are stuck with heavy traffic volumes.
To acquire views of the Vltava river, go to the Jewish Quarter, though many hotels there are expensive and modern. Some bowls (hotels that float) are planted across the embankment apart from the city's centre. Lots of these have been tidied up and renovated and, should you not mind more limited space, allow for unique options worth thinking about for travellers on a budget.
Past Charles Bridge, within Little Quarter, you'll see a few intriguing hotels in lovely surroundings, but they're far less by Prague's Castle in Hradčany. Northwards of this patch, they're some big and especially unattractive hotels. Prague's suburbs as well, contain a quantity of somewhat forgettable places.
These all offer adequate facilities, but they usually cost as much as their competitors in the city's hub, with the extra drawback of travelling times and expenses — the underground halts at midnight and cabs can get more expensive after this time.