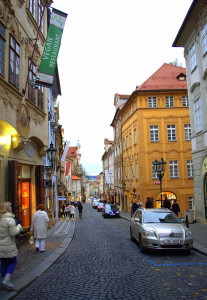 The city is in something of a hotel hangover, with more hotel beds than nearby Vienna and, outside the high season, not enough people to fill them. But that can work in your favour; while prices remain high during peak season, essentially May through September or October, they plummet in the shoulder and low periods, with room rates at half or a third of their highs. Just remember that this time period is not for everyone; wintertime in Prague is beautiful, but it gets cold, and daylight is at a premium.
When it comes to planning out a trip, one of the most important aspects is always working out where to stay, and this rings especially true when looking at heading to Prague. As with all cities, the major consideration is what you are looking for from your vacation, and then find a hotel that is near to the attractions you want to visit – so what do the different areas of Prague offer and what are the best hotels to stay in around those areas?
The most desirable neighbourhoods to stay in are the Old Town (Staré Město), the Lesser Quarter (Malá Strana), Újezd, the Castle Area (Hradčany), and possibly the New Town (Nové Město). Neighbourhoods located a little bit outside the centre, like Smíchov, Vinohrady and Žižkov, are easily accessible by Prague's inexpensive, efficient metro and tram system and are well recommended to those on a lower budget.
For those looking for a party vibe, then the place to be is the New Town (Wenceslas Square) or the Old Town – an area with a number of bars, clubs and other late-night entertainment options.
For those looking for a romantic weekend away, then, without doubt, the best place to stay is the area of Malá Strana (Lesser Town) or Újezd, which is close to many great restaurants and is also well connected to other areas of the city, meaning that you will be able to enjoy all of the sights and sounds of Prague without having to endure long tram or taxi rides – something that would really take the edge off a romantic vacation!
Staré Město (Old Town)
You are in the tourist core of Prague (which is Old Town Square), where it is just a five- to ten-minute walk to the New Town or the Jewish Quarter. Everything, including sights, nightlife, shopping and restaurants, is within walking distance at your fingertips. The disadvantages will be parking, high prices and that the place can get noisy.
Malá Strana (Lesser Town)
The area below the Castle with evocative, cobblestone alleys which extends out to the border of Ujezd is very nice. With easy access to Old Town (just across the Charles Bridge), the Lesser Town is as authentic as Old Town, but it is less crowded than the other side of the river. Hotels might be quite expensive, and some of the best hotels in Prague are located there. There are also many nice bars and restaurants nearby. For staying – Nerudova street is Our Pick!
Újezd
Borders the Lesser Town and is the area located below Petrin Hill. Connected with trams and within walking distance of the Charles Bridge, it is not a bad choice. Ujezd's tram stop is opposite the Funicular.
Nové Město (New Town)
The area near Wenceslas Square, "New Town," only means less than 800 years old. The area bustles with activity during the day, just a short walk to Old Town, and lots of shopping all around. But accommodation is definitely cheaper than the Old Town hotels, and there is a good choice for shopping too. The disadvantage is that you might need to use a tram or metro to get around or walk for a bit longer. Other cons are that it gets seedier after dark, and noisy clubs, prostitutes around Wenceslas Square and cabarets with night entertainment might disturb you.
Hradčany (Prague Castle)
The neighbourhood surrounding Prague Castle, the area on Castle Hill, is dotted with expensive hotels (luxury residences or suite hotels), gardens and historic buildings. This location is best if you plan to visit the castle during your trip or its lovely picturesque surroundings. The castle area includes Pohořelec where the Strahov Monastery is, Úvoz (Castle Steps) and the New World (Nový Svět). The disadvantage is that you will be far from the action with fewer high-end eateries and far less street life.
Vinohrady
The area located above Wenceslas Square (National Museum), with leafy residential streets. Just within a tram ride or walking distance of the city centre. Many nice and reasonable priced hotels, small bars, shops and good restaurants too. The area is not as tourist-friendly and is rather quiet and filled with locals.
Smíchov
A cosmopolitan area with cobblestone streets along the Vltava, just south of Malá Strana, with excellent public transport and good shopping (Novy Smíchov Mall). You can reach the Old Town centre by metro or train within ten minutes. Not within walking distance of Old Town.
Zižkov
The area down the hill from Vinohrady, Žižkov, has many hotels with good deals, though the disadvantage is that it is not the best surroundings, a bit gritty and dirty. The distance to the city centre is up to 20 minutes by tram or metro, and not within walking distance of the city centre. The area is filled with great bars and music venues with a lively arts scene.
Dejvice
On the way from the Airport, with nice surroundings, but it is a rather residential area. Not within walking distance of the Old Town, but not far from Prague Castle. By tram or metro, you can get to the city centre in 10-15 minutes.
Karlín
It has the disadvantage of not offering the best surroundings, with rather ugly buildings—ten minutes to the city centre by public transport.
There are a few cheap 3 or 4-star hotels around Prague's outskirts which are far from anything and are so badly connected with public transport that transport to the city centre can take even more than one hour. It is thus advisable to check if your hotel is nearby a metro or at least a tram stop. The bottom line is that you will stay in a nice hotel for a bargain price, but separated from beautiful Prague by a long ride to the centre, and you will be forced to eat in the hotel restaurants as you won't find restaurants around your hotel.